There's nothing that jump-starts a place people will love to walk like liner buildings. It doesn't matter whether you're helping a place recover from sprawl or building a new neighborhood center; liner buildings get far more bang for the buck and make things possible today that would be completely impossible until years in the future using conventional mixed-use building types. 
   Liner buildings are very thin buildings that line the edge of a street, plaza, square, or other public space. They can be as little as 8-10 feet deep for retail uses and 12-14 feet deep if they include residential uses. They may be a single story high, or they may be several stories tall. Liner buildings have several key advantages over other building types:
   One of the top requirements of a great place is "spatial enclosure," which is design-speak for "feels more like a room than a highway." No building type encloses more space for less dollars than a liner building. Yes, you can enclose a space with a freestanding wall, but walls are usually much less interesting than buildings because buildings have people, windows, and other interesting things.
Storefront-Floor Area Ratio
   A liner building with retail on the street level displays the shop's wares more effectively than any other shop. The reason is simple: if two shops each have storefront windows across their entire street frontage and one (the liner building) is ten feet deep and the other one (the conventional Main Street shop) is a hundred feet deep, then the liner building has ten times as much storefront per square foot of floor space as the conventional shop. Simply put, there is no other configuration of store that displays more of the store's goods to people walking by.
   The Single-Crew Workplace is a place of business small enough to be run by a single crew. For a retail shop, that's one shopkeeper. For a restaurant, it's a cook and a server. For a barber or hairstylist, that's a single person. For a B&B, that could either be one inkeeper/cook and one housekeeper for an 8-room B&B, or a single person that does everything for a 4-room B&B. For a bar, that's one bartender. For a grocery store, that's a single grocer.
   Mixed-use buildings have a problem today: the retail experts who set impossibly high thresholds for supporting them. For example, the accepted wisdom is that you need 500 "rooftops" (that's retail-speak for homes) to support a single corner store. If a neighborhood is building 50 homes per year, it would be a decade before that neighborhood could support just that first corner store. And that grocery store? Not too long ago, a 10,000 square foot neighborhood grocery store was common, but today 40,000 is considered the minimum size, and that requires a catchment area much bigger than a neighborhood. But I'll blog soon about something quite the opposite: that single-grocer store which is considered completely impossible today. Here's the bottom line: single-crew workplaces make all sorts of neighborhood businesses possible today that would be completely impossible using bigger-box standards, and no building type is so perfectly suited to single-crew workplaces as the liner building.
   Liner buildings are used most commonly today to enclose a public space, shielding it from something less desirable behind such as a parking deck or parking lot. I would even go so far as to say that every parking deck built from this point forward should be buffered from streets or squares by liner buildings. Why build any buildings that degrade the public realm? And the fact that the part that makes them palatable from the street also earns rent is a bonus. This building looks like a 5-story office building from the street, but it's really a 7-story parking deck with an 18 foot office liner and 12 foot gallery on the street. But lining a parking deck is only one of the uses of a liner building. What's behind the liner building doesn't have to be something undesirable… enclosing the public space is worthwhile even if there's nature behind.
   The reverse can also be true. The liner building can be used to protect a quiet courtyard area from the noise of a busy street. A cloister is a classic ancient liner building type used for this purpose for centuries. Here's a three-story classical stone liner building that's nearly a block long which shields a courtyard inside the block from a mundane street.
   There's a third type of liner building that's less common: the "end cap liner." An end cap liner building is a thin building built on the end of a block of attached mixed-use buildings. 
   Main Street buildings typically have blank side walls because they are attached to their neighbors on either side. Far too often, Main Street designers and builders forgot that the end buildings on Main Street blocks can have storefronts and windows above, and built them with blank walls like their neighbors. These blank walls fronting onto the side streets have a terrible effect on Walk Appeal, significantly reducing the number of customers who will walk down those side streets to get to the shops. This little modern metal end cap liner building transforms (with the help of the billboard above) a really boring blank side of its brick neighbor into a corner everyone wants to turn, increasing the prospects for success of every merchant on that street.
Fitting into Parking Lots
   One of the first steps in sprawl recovery is reclaiming the frontages, and liner buildings are a key tool, especially in or near neighborhood centers. In many cases, they'll be reclaiming space from parking lots because surface parking is one of the greatest blights of sprawl. Interestingly, a bay of parking is typically 18 feet deep, which is perfect for a liner building. Build a sidewalk on the inner 3 feet of the parking space (toward the rest of the parking lot) and build the liner building on the remaining 15 feet. This is wide enough for apartments or condominium units above, even if the parking lot ran right to the property line. If not, then you have even more space to work with. And yes, once the place has reached enough intensity that not everyone needs to drive, those parking lots can be cannibalized for building expansion.
   Because liner buildings are unusually thin, they are almost always one room deep. They are therefore no-brainers to daylight and cross-ventilate, meaning that they're much easier to condition naturally for most of the year than conventional Main Street buildings. It is widely known that the most beautiful light in a room is achieved with daylight on two or three sides of the room, yet designers and builders struggle to achieve this on most buildings. Not so with liner buildings… there, it's the easiest thing to do.
   What else should we be discussing on liner buildings? Have you noticed any in your neighborhood, or nearby? What other uses and types of liner buildings should we be talking about? I have a few in mind, but am curious what you think?
   ~Steve Mouzon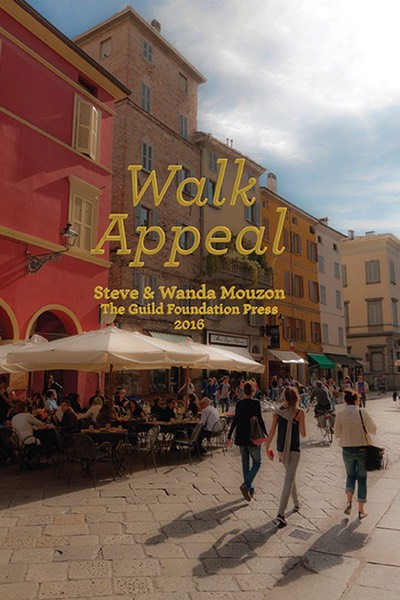 You'll receive an email from me with the subject line "Mouzon Design: Please Confirm Subscription." Click Yes to confirm your subscription for Walk Appeal book updates.