There is no greater expression of neighborliness than showing kindness to someone you may never know. We can give gifts to strangers in person, of course, but our buildings can do it, too. Imagine what your neighborhood would be like if every home and shop gave a gift to the street! Wouldn't it encourage you to walk more, where you could savor those gifts, rather than just zipping by in a car? And as we've discussed here on numerous occasions, encouraging walkability is one of the most important things you can do to make your neighborhood healthier and more sustainable. There are several types of gifts you can give to the street:
   A Gift to the Street can refresh people. The most active way of refreshing people is by providing a sidewalk cafe, such as the one shown here. But there are simpler ways, too, such as a simple water fountain along the street, or a much larger street fountain which children can run through on a simmering summer day.
   This shopfront gives several Gifts to the Street, including sheltering people who stand under the awning from sun and rain. There are other good ways of sheltering people. A gallery can be as light and lacy as those lining the streets of New Orleans' French Quarter, shielding passers-by from torrential Gulf Coast downpours. A colonnade is very similar, except that it's much more heavily constructed, supported by brick or stone piers. An arcade does the same job, reaching across the sidewalk to shelter those walking by under its shade... the only difference is that it's supported by arches instead of a beam.
   This frontage garden has no place for the owner to sit, because it's too public. Rather, it exists solely to delight those who pass by. Frontage gardens are by far the most common forms of gifts to the street that delight people. Occasionally, there are others, however. Civic art can serve this purpose, for example.
   Sometimes a gift to the street serve to direct people along their way by proving a goal at the end of a path, such as the steeple of this chapel on the hill. Planners call this a "terminated vista" because at the end of your view, you see something to walk towards, helping to entice you along the way. Vista terminations are usually tall, so that they can be seen at a great distance.
   Some gifts are simply entertaining, such as this storefront which has many things to entice the eye. People "window-shop" on Main Streets or High Streets where there are many entertaining storefronts, for example. We normally think of entertainment as something where we watch others play or dance, but an entertaining gift to the street makes our eyes the performers as they dance around on many interesting things.
   The sundial is an ancient method of informing people of the time. More recently, the wall-mounted clock does the same thing.. You might ask "but what about a billboard; doesn't that inform people, too?" It does... but is it a gift? Not at all. It's asking you, either directly or indirectly, to buy something. A gift asks nothing in return.
A Gift to Help Them Remember
   Memorials remind future generations of the things that their forbearers found most important, such as this memorial to the citizens of this city who died in World War I.
   There is often no gift so welcome as the gift of rest. The sidewalk bench is an obvious gift of rest, but there are other ways to provide this gift. Wanda is resting here in front of the New Old Inn across from the River Windrush in Bourton-On-The-Water on her 50th birthday. (Sorry, I just had to tell the whole story on that one because those Brits have such a knack with names!) But in any case, she's resting against a stone bollard with a thoughtfully rounded top edge which makes for a comfortable surface to lean onto for a while as you decide where to go next. 
   Gifts to the street are one of the top ten things you can personally do to be more sustainable, as described in the Original Green [Unlocking the Mystery of True Sustainability]. It will be released a week from today (May 7.) If you're in Miami, please join us for the South Beach Launch Party!
   The book outlines three top tens: the top ten things we're doing now to be green that can't work, the top ten things our nations and our cultures should be doing if we want to be truly green, and the top ten things each of us individually can do by ourselves to be more green. Some of the items near the top of this last list might require major changes in your life, and might take a while to accomplish, such as living where you can walk to the grocery, or making a living where you're living.
   A gift to the street, however, is different. Depending on which gift you want to give, it's actually possible to do some of these things today! So let's get started!
   ~Steve Mouzon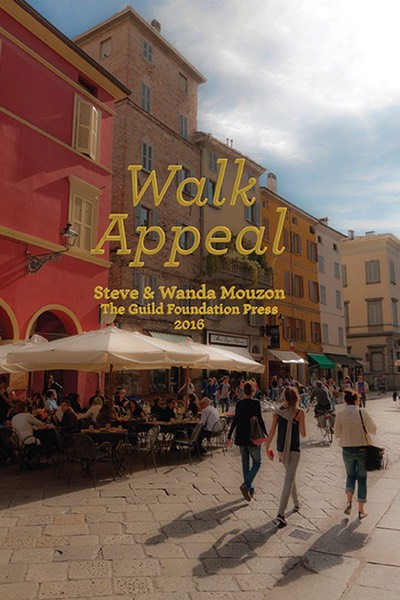 You'll receive an email from me with the subject line "Mouzon Design: Please Confirm Subscription." Click Yes to confirm your subscription for Walk Appeal book updates.
Legacy Comments:
Friday, April 30, 2010 - 01:12 PM
Anonymous
A few years ago, when the Post Office put one of those dreadful "gang" postal boxes in front of our house, we put an inexpensive bench next to it.  It has been astonishing how many more of our neighbors we've met!  I'm thinking of putting a recycling bin next to the bench so they can dump their junk mail right there instead of having to lug it home....
Karen
Bend Oregon
Friday, April 30, 2010 - 01:25 PM
Steve Mouzon
Karen, I love your recycling bin idea! That way, even if the letter carrier doesn't put it there, you don't have to lug it all the way to the house. Get several neighbors to put one up, then photograph them along the street and write a story about it... someone ought to do that... it might help play a part in reducing the scourge of junk mail. Do you know anyone that EVER reads junk mail? I don't. I wonder why they keep wasting the trees and the money to send it?
Wednesday, May 5, 2010 - 03:13 PM
Georgia
Gift to the Street reminds me of the Hidden Gems of Berkeley tours: http://localecologist.blogspot.com/2009/04/event-hidden-gems-of-berkeley-ride-walk.html.
Saturday, May 22, 2010 - 11:40 PM
Lorne Daniel
Great overview and inspirational images. A home in our neighbourhood has a box on a post (like a mailbox) to 'take a book / leave a book' - people donate and receive free books from one another.
+871+