Here's where Walk Appeal gets really interesting, and walkability theory turns into real-world survival… or thriving. This is a satellite photo of St. Charles, Missouri. They have an iconic American Main Street there, just off the river. I've selected a random store near the middle of Main Street; it's the black star in the green circle. Next, I looked at the conditions on the ground to see how far people might walk.
   At the Main Street setting, as you'll recall, people are likely to walk 3/4 mile. But On Main Street in St. Charles, they run out of the Main Street before they run out of their 3/4 mile, beginning at this store. If the subsequent street is a good urban neighborhood street, then they use up their remaining walking distance at a 1/4-mile rate.
   But have a look at what happens just North of the store: Just after turning left off Main Street onto the big street that runs West-Northwest, the streetscape drops quickly to the parking-backed standard, where people are lucky to walk 25 feet. And there, the walking stops… as any visitor to St. Charles can quickly see. The total area in this store's customer capture ends up being 87 acres. At an average density of 10 homes per acre (some Main Street apartments, most detached urban neighborhood homes) that's 870 households. By today's real estate rules of thumb we discussed earlier, that's not enough to support even a single corner store. Most stores on Main Street are surviving, if not thriving, calling that rule of thumb into question (as I did earlier.) But I agree that this store is probably just hanging on, and definitely not thriving. Walk down Main Street in St. Charles and you'll see what I mean.
   What happens if St. Charles were to do nothing more than repair the streetscapes in the problem areas to the levels of their healthier surrounding streetscapes? This would allow the store at the star to reach out much further for customers into the surrounding streets of St. Charles, as you can see above. Their customer capture would expand by more than double to 198 acres, or 1,980 households at the same 10 households per acre. By anyone's standards, this store's prognosis changes from questionable survival to thriving, based on walking traffic.
   It's important to note that businesses can thrive by attracting customers beyond the range of Walk Appeal. But then you need to provide parking for all those customers that make the difference between survival and failure. And once you get to the point that you need to park more cars than can be parked on Main Street and the alleys, then you're faced with the prospect of finding other ways to park them. And the parking lots that are most often used are precisely the things that kill walkability most quickly. So a town really does need to decide whether each part is a walkable business area or an automobile business area.
   Let's look at one more possibility: What if St. Charles was so happy with how Main Street was thriving as a result of healing the problem streetscapes that they decided to let everything in the area move up one standard? So that everything at the Main Street standard gets to move up to the London standard, and everything at the neighborhood street standard gets to move up to the Main Street standard? If they do this, the map changes to what you see above. The customer capture area has more than doubled… again… to 427 acres. But because the higher standards include more households per acre, the total number of households changes to something closer to 10,000. Now, the only thing standing between the business at the star and strong prosperity is the quality of their products and services.
   Many of the implications are obvious… and stunning. But you may see some implications that I don't yet see, so rather than me going on about what this means, let's discuss… what do you think?
   ~Steve Mouzon
   PS: Lloyd Alter, Kaid Benfield, and others have suggested dropping the Transect nomenclature I used in the first Walk Appeal posts because the millions of people who don't know the Transect won't know what we're talking about. I've done that in this post, as you can see.
   Walk Appeal is one of the game-changers of Sprawl Recovery. Here are other Sprawl Recovery posts on the Original Green Blog:
   Sprawl Recovery - A 12-Step Program
   I've also started a Walk Appeal BlogOff that lists everyone's posts on Walk Appeal.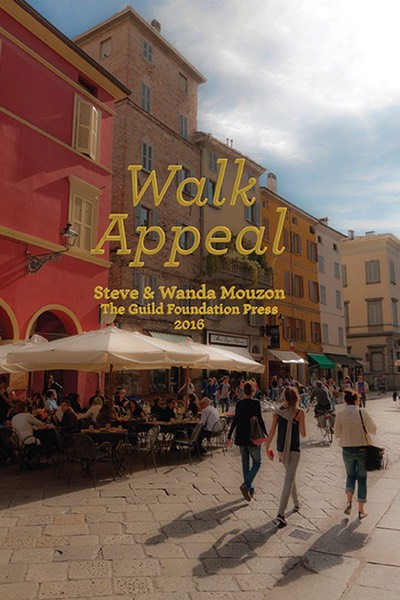 You'll receive an email from me with the subject line "Mouzon Design: Please Confirm Subscription." Click Yes to confirm your subscription for Walk Appeal book updates.
Legacy Comments
Steve Mouzon · Board Member at Sky Institute for the Future
This is the most recent Walk Appeal post, and it shows how all this theory has strong real-world effects that can make the difference between survival... or not... for walkable neighborhood businesses.
http://www.originalgreen.org/blog/walk-appeal-impact.html
Kaid Benfield and Lloyd Alter, I agree with you both on the Transect nomenclature, and have revised the earlier post... thanks!
Chris Bradshaw · Oberlin College
Kudos for this effort, and for sharing it on-line.
I am a fan of Walkscore, but agree that it is too simple. For instance, a man of 93 was struck and killed in a crosswalk for a 6-lane divided arterial a month or so ago near us. The walkscore for that location is 78. Their dependence on Google data categories for destinations is also a problem, as my house's score being buoyed by treating a driving school as a school.
The Walkscore people are already working on the simpler elements, such as recognizing impediments to walking directly because of natural and man-made obstacles. They also are adding transit scores. The use of transit is a complement to walkability, but all transit round trips require crossing a street at each end, so they also need data on street widths and location of traffic signals (and maybe the amount of WALK-signal as a ratio of the whole signal cycle, to show what might be called an patience factor).
Another factor is the state of sidewalks, not just whether they exist, but their width, condition, presence of curb depressions for wheelchairs (and shopping carts and walkers and strollers), and if they are set back from the curb. Length of blocks is also important.
The other factors you mention are mostly not covered by data bases, but I would support using the net to get local volunteers to add details to existing datasets for such things as location of amenities (benches, fountains, washrooms), tree cover, and even incidents of collisions involving pedestrians.
I like focusing on the positives of the walking environment. I prefer thinking of the central quality as being desire lines. The most walkable location will have many points of interest the eye is drawn to, and can reach without detours or delays. This creates "fabric" that attracts people on foot, as in "feet follow fabric." Jane Jacobs talked about walkable places needing local residents/workers who have a sense of proprietorship for their area.  
But the negative can't be ignored, though. Jacobs' "eyes on the street" doesn't just refer to the positive the eyes are drawn to, but the dangers they arise when there are no such proprietary eyes. Ottawa geog. prof. Barry Wellar, has done work on a Walking Security Index. I would like to see this element become part of the data by having a smart-phone app that senses the tension caused of traffic and noise, etc. that could be collected for all streets.
1,565+